Conference Topics
Department of Information and Communication Sciences
Faculty of Humanities and Social Sciences, Zagreb, Croatia
ORGANISES
4th International Conference
The Future of Information Sciences (INFuture)
INFuture2013: Information Governance
Zagreb, 6-8 November 2013
http://infoz.ffzg.hr/INFuture
INFuture 2013: Information Governance is the fourth in a series of INFuture conferences focusing on theory and methodology of information governance, interaction between e-society and e-government, preservation of electronic records, language technologies and interdisciplinary education. The objective of the conference is to provide a platform for discussing both theoretical and practical issues.
TOPICS (in brief):
1. Theory and Methodology of Information Governance (IG)
2. Knowledge Management (KM)
3. EU Infrastructure Integration
4. Applications for e-Society and e-Government
5. Enterprise 2.0
6. Cloud Services
7. Language Technologies
8. Semantic Web
9. Digital Curation
10. New Challenges in Interdisciplinary Education
We accept the following paper categories:
- Research paper - original scientific paper, review, professional paper, preliminary communication (8 to 10 pages)
- Case study (4 to 6 pages)
- Tool demonstration paper (4 to 6 pages)
- Project presentation (2 to 5 pages)
- Student paper - paper whose authors are solely pregraduate or graduate students (4 to 6 pages)
- Poster (1 page summary)
Official language of the conference is English. Papers undergo international blind peer review and are indexed in relevant databases.
Download Call for Papers (PDF)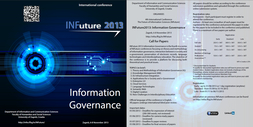 TOPICS (in detail):
1. Theory and Methodology of Information Governance (IG)
Information management, Integrated knowledge environment, Information development, Content relationships, Information excellence, e-Discovery, Agile business transformation, Information technology governance, Corporate governance, Records management and information governance, Enterprise content management.
2. Knowledge Management (KM)
KM initiatives and challenges, KM design and development, KM applications, Knowledge-based assets, Social network analysis, Social KM, Decision management systems, Big data analytics, Knowledge-sharing activities, Distributed knowledge integration, Knowledge capturing, Expert knowledge modelling, Point-of-origin knowledge capturing, Adaptive knowledge infrastructure.
3. EU Infrastructure Integration
Croatia and EU, Initiatives in infrastructure integration, e-Research infrastructures, Sustainable infrastructure, Scientific integration, International outreach, Socio-economic impact, Distributed resources, Future innovation, High-performance computing, Data management resources and services, Project excellence, Industry cooperation.
4. Applications for e-Society and e-Government
e-Administration, e-Business, e-Commerce, High quality and cost effective government services, e-Government service integration, Organizational transformation, Optimisation of service delivery, e-Participation, e-Citizenship, Digital divide, e-Democracy, Digital economy, e-Commerce, Social software, Networked sensors, Public solutions.
5. Enterprise 2.0
Social enterprise, Social tools, Collaboration tools, Integration of social and collaboration tools, Social customer relationship management (CRM), Business processes, Social networking, Social bookmarking, Mashup applications, Social skills management, Social workplace ethics, e-Learning organisation.
6. Cloud Services
Virtual services, Virtual collections, Virtualisation, Archives in the cloud, Legal aspects of cloud storage, Ethical issues of cloud storage, Cost control, Time-to-market, Software-as-a-service (SaaS) solutions, Platform-as-a-service (PaaS) solutions, Infrastructure-as-a-service (IaaS) solutions, Influence of cloud computing on Museum / Library / Archival (MLA) theory and practice, Public / Private / Hybrid cloud solutions, Web as operating system, Document and record management in the cloud.
7. Language Technologies
NLP techniques and applications, Language resources, Language tools, Text and speech corpora, Machine translation, Text mining, Information retrieval, Automatic summarization, Evaluation methods, Dialogue and interactive systems, Lexical semantics and ontologies, Low-resource language processing, Sentiment analysis, Machine learning methods, Syntax and parsing, Tagging and chunking, NLP generation, Spoken language processing, Multilingualism in NLP.
8. Semantic Web
Semantic search, Semantic enabled retrieval, Semantic classification, Linked data, Seamless integration of data, Authentication, trust and provenance of semantic data, Ontologies, Ontological Engineering, Dataset description, Alternative human-computer interfaces, Semantic interfaces and visualisation, Self-describing Web, Knowledge discovery, Resource Description Framework (RDF), Data modelling, Ontology-based knowledge representation.
9. Digital Curation
Long term digital preservation, Archiving of digital assets, Trust in digital records, Trusted repositories, Open data repositories, Virtual collections, Digital forensics, Records in the cloud, Personal digital archives, Risk management, File format identification, Curation of scientific research data, Archiving multi-user virtual environments, Web archiving, Education of digital curators, Automated metadata extraction, Ontologies and data curation, Migration, Emulation, Virtualisation, Interoperability of digital repositories, Metadata for digital preservation services, Integration of life-cycle management and long term digital preservation.
10. New Challenges in Interdisciplinary Education
Initiatives in interdisciplinary education, Innovative learning strategies, Educational systems design, Education for e-science professionals, Development of digital preservation curriculum, Information governance education, Enhanced collaboration, Service based e-learning, e-Learning curriculum, e-Learning environments, Intelligent tutoring systems, Plagiarism detection, Mobile learning, e-Learning performance measuring, e-Laboratories, Student collaboration, Interdisciplinary teaching methods, Quality management .
We are also encouraging papers on human-computer interaction, multimedia solutions, social networks research, advanced solutions for mobile cultural heritage services, virtual learning environ­ments, cultural heritage management, research and application of natural language processing techniques, solutions for digital lexicography, document and record management, digitization of cultural heritage materials, long-term preservation of digital materials, repositories.
We welcome best practices and business applications in digital archives, libraries etc., and other related domains.